Top Naples Beaches to Beat the Summer Heat!
Wednesday, June 21, 2017
The hot Florida summer is upon us. Looking for a way to beat the heat?! Spend some time splashing around in the Naples area! Spend the day at the stunning, sandy beaches that are the crowned jewels of Naples. Here are the perfect Naples spots to cool off this summer season!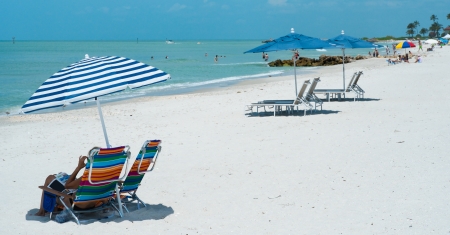 Delnor-Wiggins Pass State Park | 11135 Gulf Shore Drive
Often ranked as one of the best beaches in the country, this all natural beach allows you to feel an escape from the hustle and bustle of the city. Be sure to hit up the beautiful nature trail to explore the stunning natural landscape of our coastal region.
Barefoot Beach Preserve Park | Barefoot Beach Road
Have the ultimate beach experience at Barefoot Beach Preserve Park. Relax on a hammock, explore the tidal creeks and mangrove swamps, or visit the 342 acre preserve's butterfly garden.
Lowdermilk Park | 1301 Gulfshore Boulevard North
This is the perfect beach for families in Naples. With pavilions for picnics, playgrounds, duck pond, sand volleyball courts, concession sand, and calm waters, your entire family will love their day at the beach.
Vanderbilt Beach | Vanderbilt Beach Road
This popular beach in Naples sits in front of a line of area resorts. This proximity to the resorts allows beachgoers the opportunity to hit up the excellent bars and restaurants when they need a break from the water. If you are looking to avoid the crowds, go in the early morning.
Clam Pass Park | Seagate Drive & Crayton Road
Experience multiple Naples habitats at this beautiful beach. To access the water, visitors take a tram ride through a mangrove estuary. Once you get to the beach, you will enjoy a pristine beach with available boat and cabana rentals.
Sugden Regional Park | 4284 Avalon Drive
This park offers the area's only freshwater lake public beach. The 60 acre Avalon lake is perfect for swimming, kayaking, water skiing, and more.
Why just visit the beach when you can live right on it? Enjoy the ultimate Florida lifestyle by having the beach right in your own backyard. Check out our Beach Homes for sale. Give Private Reserve Realty a call today or visit our website at http://www.privatereserverealty.com/ to help make this dream a reality!